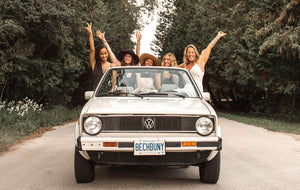 EXPLORE OUR EVENTS
& WORKSHOPS

170 Ossington Ave: December 13th, 5pm - 7pm
Word of the Year Workshop
What if you could transform your "shoulds" into a single word that grounds you, and helps steer your goals and intentions throughout the entire year? A new year's resolution that you'll actually keep?

That's exactly what the Word of The Year Workshop is designed to do.

Led by occupational therapist and health coach Dimple Mukherjee, you and a group of like-minded women will be guided through a personal growth process to help distill your goals and aspirations into a single word that resonates within you.

And that one word will be your north star for 2024.

WHEN: December 13th, 5pm - 7pm

WHERE: Grit & Grace at 170 Ossington, Toronto

TICKET COST: $50 per person
Your ticket includes the in-person workshop, an exclusive 10% discount at G&G after the workshop, refreshments and light snacks

WHAT TO BRING:
• favourite pens or colouring tools for the art portion
• your own journal, this can be one you are using or start fresh with something new
• wear something comfy

We love offering this workshop to our community to create space for inspiration, growth and connection with yourself and others.
Book your spot

Zoom Event: Nov 29 - 7pm - 8pm
Book Club: Through the glass, by shannon moroney
This month our Book Club has been delving into the captivating, auto-biographical true story 'Through The Glass', by Canadian therapist and author, Shannon Moroney.

Join us for what's going to be a thought-provoking discussion about an extraordinary tale of resilience and forgiveness. Shannon will be there too!

WHEN: November 29th, 7pm - 8pm

WHERE: This is a virtual Bookclub hosted on Zoom with @kindbykay

COST: By Donation / Pay What You Can
With the Nygard trial underway, all donations will go to support survivors' therapy since nothing is provided to them through the justice system. Grit & Grace will match all donations. 👇🏼
https://shannonmoroney.com/products/survivor-programs-donation

HOW TO JOIN: To access this Bookclub meeting, you must first join our Facebook Community Page by clicking the button below, and head to the Bookclub Chat for all the details! The Zoom link will be shared with you there.
Join Bookclub Facebook Group

Online Every Wednesday
Community Yoga
Join our online 45 minute flow designed for all levels of yoga. Lead by @kindbykay. Classes are held via Zoom every Wednesday at 6:30pm ET.
Join Our Community

BOOK CLUB
Join our community Book Club on Facebook. Lead by @kindbykay.
Meetings are held via Zoom on a monthly basis. Free to join!

Stay tuned for our next read!
Join THE CLUB
The Grit & Grace community is for women who crave connection, inspiration, and meaningful interactions.

Our focus is to build the creative spirits of women everywhere through workshops, speaker series, supportive mentorship and more. We're committed to providing a safe space where women can authentically come together to share stories and speak unapologetically.